Hire us
Wildlife K-9 Team
We are the only organization of our kind offering innovative and proactive human-wildlife conflict solutions for government agencies, industry groups, and private entitites. Our unique methods and techniques are founded in behavioral science and delivered by a team of specialized biologists partnered with wildlife K-9s to prevent and reduce human-wildlife conflict. We offer bear guarding services, wildlife monitoring, hazing, and aversive conditioning, bear den detection surveys, use of Unmanned Aircraft Systems for wildlife application, wildlife crime detection and investigation, and wildlife attack response . Contact us today for a free quote!
Hire us
Consulting
We offer a variety of consulting services including on-site bear hazard assessments for communities and proposed development areas, bear safety training for government agencies, industry, and private entities, specialized training in key uses of Wildlife K-9 for wildlife application, outreach and education presentations, and environmental consulting services. Our human-wildlife conflict specialists are highly trained wildlife biologists that use proactive, non-lethal methods to address wildlife conflict issues. We are able to work in remote and urban settings, in a variety of ecosystems, between multiple stakeholders. Contact us today for a free quote!
Frequently Asked Questions
What is "Bear Shepherding"?
Bear Shepherding is a specialized form of aversive conditioning designed and used exclusively by the Wind River Bear Institute to make each action as relevant as possible to bears. Our Bear Shepherding programs are based on behavioral science and learning theory. Our goal is to teach bears that future encounters with humans are unpleasant, that the bear needs to leave the area, and that people will let them leave. We teach bears wariness and avoidance, not fear; this minimizes the risk that bears will respond aggressively in future encounters with humans. Since 1996 our Program members have conducted over 800 Bear Shepherding actions each year to push bears away from human developments, without any injury to members of the public, our teams, bears, or to our Wildlife K-9s.
How Much Does it Cost?
We offer custom packages specially tailored to address the problem at hand. Contact us for a quote!
What is a Wildlife K-9?
Wildlife K-9s (WK-9) are specially trained working dogs, predominantly Karelian Bear Dogs, that assist our Human-Wildlife Conflict Specialists to work safely and effectively with large and potentially dangerous wildlife. Wildlife K-9s are able to track and alert on the presence or sign of target wildlife, pursue and push large game, act as a non-lethal last resort to deter aggressive wildlife, and act as ambassadors for the animal kingdom in outreach and education events. Our WK-9s are exclusively used for conservation purposes and applied management. They are unique in that they are able to both detect and indicate on scent, but also push large and potentially dangerous wildlife away from human-occupied space in a safe and effective way. Our WK-9s are especially friendly towards people and are forbidden to be used for arresting or detaining human subjects. WK-9s are an incredible tool for wildlife conservation in that they can go from pushing a grizzly bear off of a school playground to visiting with the children at the school to promote bear safety and awareness!
Where are you located?
The Wind River Bear Institute is based out of Florence, Montana and Fairbanks, Alaska. We have worked throughout North America and Japan over the past 24 years but our techniques can be  applied to other species of large and potentially dangerous wildlife including cougar, moose, and big horn sheep. Our unique approach to addressing human-wildlife conflict issues can be applied worldwide!
Do you sell karelian bear dogs?
Upon receiving a sufficient pool of qualified applicants, we breed our top "Bear Conflict" level KBDs to produce a litter. We rigorously test each litter through our two-week "Bear Test" in which we separate our dogs into Bear Conflict, Bear Protection, and Companion Dog categories. Bear Conflict dogs are to be placed in a working capacity with wildlife professionals for training to become a "Wildlife K-9." Bear Protection dogs are placed with people living or recreating in bear country for bear protection purposes. Companion dogs are placed with individuals that are not interested in using their KBD for application with bear. If you are interested in becoming part of our Program, fill out our KBD Placement Questionnaire and begin the ownership process today!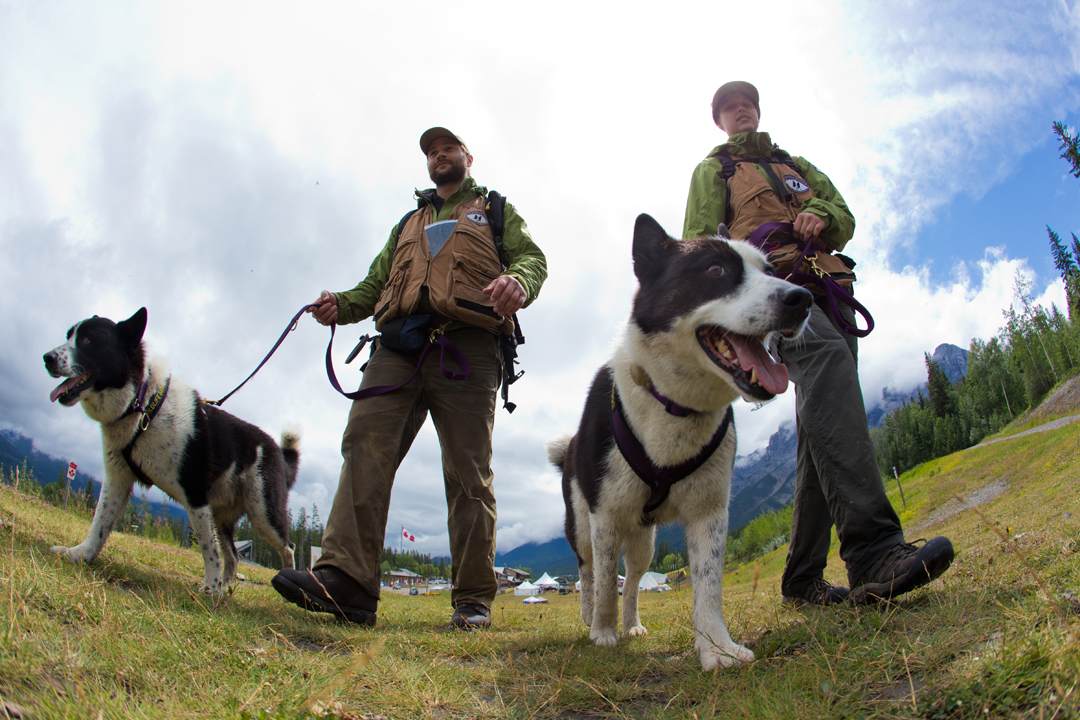 Nils Pedersen and Kelsey Means working with Wildlife K-9s, Akela and Soledad, to sweep the race course before 24 Hours of Adrenaline event in Canmore, AB.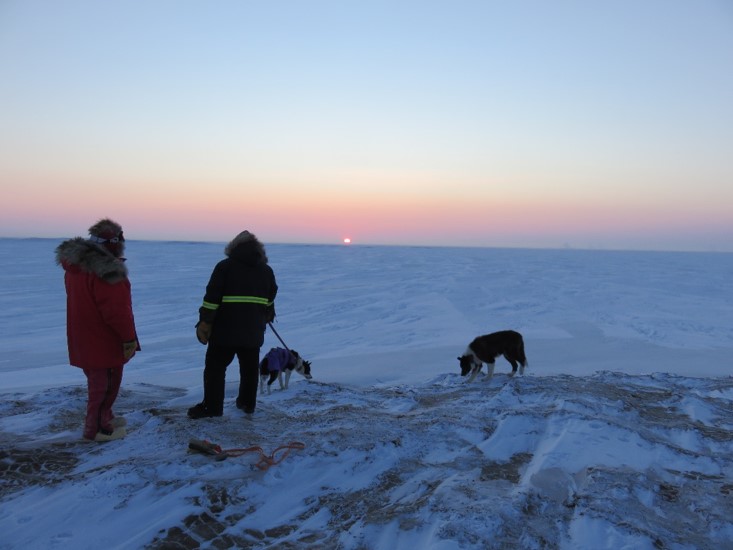 Dick Shideler (left), Alaska Department of Fish and Game, with Nils Pedersen (right), locating a polar bear den with Wildlife K-9s, Soledad and Kavik, off of a barrier island in the North Slope oilfields of Alaska.
ALASKA
Nils Pedersen
P.O. Box 750689
Fairbanks, Alaska 99775
(907) 347-7485
n.pedersen@windriverbearinstitute.org
MONTANA
Carrie Hunt
5353 E. Carlton Creek Road
Florence, Montana 59833
(406) 546-7051
windriver@beardogs.org
Thank you to our supporters: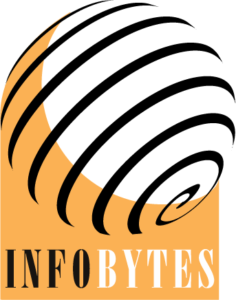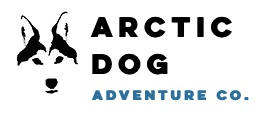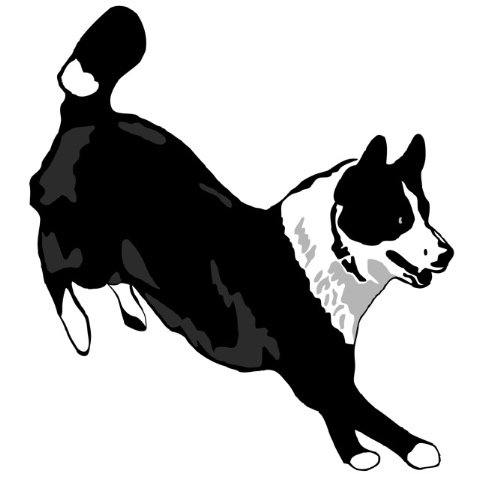 Wind River Canine Partners LLC
Hire Us
Join our cause and hire us to help with your human-wildlife conflict issues today. We offer Wildlife K-9 Teams, consulting, and training services for government agencies, industry groups, and private entities. Our motto: "Teach Your Wildlife Well".
Donate Now
Contribute to our cause by donating to our programs. All donations will go towards continuing the important work that we do throughout North America and Japan. Your generous donations will help keep wildlife on the landscape!